HieroTeX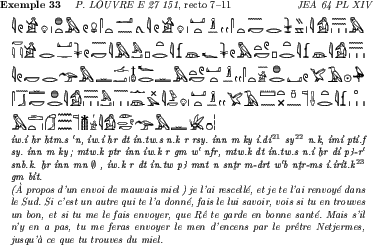 RMP packages (for RedHat linux) for HieroTeX are available on http://www-student.informatik.uni-bonn.de/~prokop/hierotex/index.html courtesy of A. Prokop.
The latest release of HieroTeX is in this directory.
NEW ! A Macintosh version of HieroTeX is available on F. Vervloesem's pages on mac egyptological softwares.
La documentation de HieroTeX est disponible en html et en PDF.
This package's documentation is available in html as well as in PDF.
Changes
1/12/03 new version of HieroTeX. It fixes mainly installation problems. A proper TDS (Tex directory structure) is provided for the sake of TeX distributors.
4/11/02 a new version of HieroTeX. Some bugs removed, more documentation on installing type 1 fonts. Postscript Type 1 fonts available here
4/6/02 a new version of HieroTeX same as previous one, but with a compiled sesh.exe for windows (built with mingw).
11/1/02 a new version of HieroTeX is available under the name HieroTeX-3.0.tgz. This file contains all the sources you need to use HieroTeX (except LaTeX !). An updated compiled version for windows will be available very soon.
27/1/97 Michael Gierhake has kindly sent to me a version of sesh compiled for DOS boxes, you will find it in sesh_dos.zip
1/1/97 :-) bug corrected in Sesh. NEW version of the coptic package, with many changes.
20/10/95 hum... update of the mf files which needed to be remade after the change made on 4/10/95.
4/10/95 a little change made to prevent compilation problems between Coptic and Hieroglyphic fonts.
12/7/95 a few signs where redrawn (most notably the eye) and all customisation options where put in the same place. version numbers added.
21/3/95 added F37B character.
20/12/94 first WWW distribution.
---
Please, mail any comment you would have. Texts would also be very welcome.

Vous pouvez laisser des commentaires sur mon mur à graffiti :-)

Now, you can leave a comment on my own graffiti wall :-)

rosmord@iut.univ-paris8.fr Home page

Permission is granted to use these data for non-profit under the GNU licence. If you want to use them for commercial purposes, please contact me.